It's been already two years…Time flies and that's so true! On this same date last year, I did a short retrospective of year 1…Now, it's time to reflect on everything that happened in the previous 365 days.
Blogging
Unlike during the first year, when I wrote 70 blog posts, this year was less productive – "only" 38 published posts! There's been a lot of hectic periods with a lot of regular work to do, so I was hardly finding spare time to write. But, hey, it's still approximately 1 blog post every 10 days, which is not that bad at all! It's not that I don't have ideas or motivation to write (I have a serious backlog of ideas for blog posts) – I simply struggle to find time to write:(…
The thing is that I often spend a lot of time writing one article, as sometimes it takes literally a few days (not 5 minutes per day for 10 days, but literally a few days of effective work in preparing the post).
I'll repeat: I firmly believe that content is the king! Therefore, I was trying my best to produce quality content, that will be both interesting and helpful to other people. And, trust me, there is no better feeling when someone gives you feedback that your text/idea helped to solve her/his problem.
While I was blown away that in the 1st year, data-mozart.com was visited by ~22.000 users, and had 36.000 unique sessions, I don't know what to say for this year numbers:
Around 73.000 users and 105.000 sessions! Translated into page views, it's almost 140.000 page views: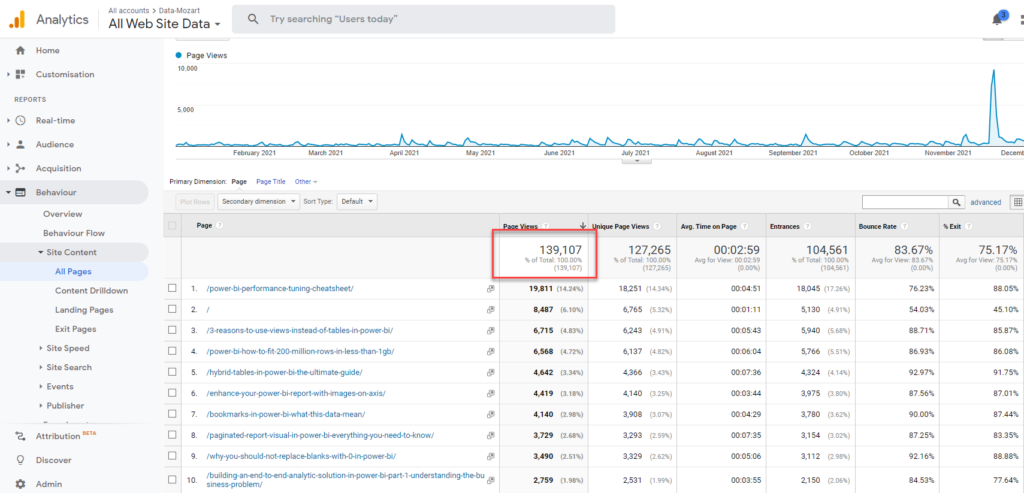 That's incredible! That's WOW! These numbers make me really proud and give me an enormous motivation boost to continue publishing. The ultimate "winner" among the pages was the Performance Tuning cheatsheet I've created in the previous month. There were also some other highly visited pages, such as the one where I tried to explain why does it make sense to use views instead of tables in Power BI, or how to fit 200 million rows table in less than 20 MB!
I've also started writing a blog series on data modeling with a good friend and one of the Power BI experts I respect most – Tom Martens! The first articles were already published, and I'm really looking forward to writing the rest of the series together with Tom in 2022…
Speaking
This was an extremely productive year from the speaking perspective. I've presented 38 times during 2021, which means more than 3 presentations per month! This awful pandemic meant that most of the sessions were delivered virtual – and when I say most, I mean all but one!
I was lucky enough to be selected to speak at Data Saturday Croatia in September. It was my first in-person event as a speaker and such a great experience! But, more than that I was excited to finally meet in person some of my community "friends" and share the table and beer(s) in the post-event dinner. Thanks Damir and Dean for organizing this fantastic event…
If there is one single positive thing that this sh*ty pandemic situation brought, that was the possibility to present online, and virtually attend different events in all parts of the planet. I was presenting at all kinds of events – from huge conferences, such as PASS Data Community Summit, Power BI Summit, Data Weekender, multiple Data Saturdays across the globe, to local user groups all around the planet (Europe, Asia, America)…
And, I owe huge gratitude to all of the organizers, for giving me an opportunity to present, and all attendees for deciding to spend their most precious asset – TIME – with me!
Finally, I was a member of the organizing team of the unique Power BI event – Power BI Fest, which lasted 24 hours without stopping! Unfortunately, I got COVID a few days before the event and was feeling quite bad, but despite that, it was an incredible experience. We know that we could do better (sorry again Marc:)), however, I'm sure that we've learned from our mistakes and will get back in 2022 with a style!
Youtube-ing
I've started the Data Mozart Youtube channel in the summer, as a lot of people asked for having a video to complement the blog post. I've published 11 videos so far. Unfortunately, I was struggling to find time in recent months to publish new videos on a regular basis, and I sincerely hope that I will have more space in 2022 to dedicate to producing new Power BI and data-related videos.
Becoming a Microsoft Data Platform MVP
This one was huge! And it still is! I'm still pinching myself when I think that I'm a Microsoft Data Platform MVP.
For those of you who are not aware, this is probably the most prestigious award one can get in the Microsoft data world – one gets it not because of cramming the exam, or answering correctly to some questions…This is the one where Microsoft shows you recognition for the community work, and that's why I'm especially proud of this award. Not in my wildest dreams, I'd imagine that I'd be going to become one of the ~400 people on the planet that have the honor to be named as Data Platform MVPs, and being in the company of the people whose books I've read (or still reading), and from which I'm still learning a ton every single day!
Special thanks to Nicky Van Vroenhoven, Kathrin Borchert, and Wolfgang Strasser, for nominating me for this prestigious award…I'll do my best to continue sharing what I know and what I've learned.
Pluralsight Courses
In the last quarter of 2020, I've become a Pluralsight author. I was waiting for a few months to put my hands on creating a course that could be close to my area of interest – and, in the end, I've created 3 Pluralsight courses this year (two of them Power BI related), and the 4th is on its way! What a year!
Huge thanks to Kari Harbath for believing in me, but also to all the other nice, kind, and supportive people from Pluralsight. It's really a privilege being part of the Pluralsight family.
Professional Challenges
After 5 wonderful years working as a Business Intelligence Developer at ITSP Services, I've decided to take the next step and joined Avanade at the beginning of October. I'm grateful that I got the chance to work with some of the smartest and most talented people on the planet, on cool and interesting projects.
However, I've decided to challenge myself again, and starting from March 2022 I'll work as an independent consultant and trainer, trying to help clients with the implementation of Microsoft Data Platform solutions, with a specific focus on Power BI and Power BI performance tuning. Providing Power BI training will also be one of the focal points of my work and I'm really looking forward to it!
Losing a friend…
Have you ever had a friend that you never met in person? I know that it sounds strange, but I knew Ferenc Csonka only from our online chats and calls…But, that was enough to understand how nice and humble a person he was. I promised to visit him in the spring at his new house in Budapest, but then, in mid-October, I was devastated to hear the news that Ferenc suddenly passed away.
I remember that he should have presented at Stuttgart Power BI User Group that Wednesday afternoon, and I just passed by to greet him…But, he didn't show up…It was so strange, knowing how Ferenc was responsible and reliable. Then, I got in touch with the lady that is the CEO of the company Ferenc used to work for, and she told me the worst news. I was both shocked and devastated and I still can't believe that Ferenc is not with us. My thoughts are with his young family, especially 12-years old boy Samuel…
Rest in peace, my friend, you'll never be forgotten…
What next?
Well, 2021 was (again) a year to remember – both in positive and negative ways! As I am always optimistic by nature, I sincerely hope that this pandemic will stop sooner rather than later and that I should be able to have a beer or two with all of you amazing people from our community!
The first opportunity is in March at SQLBits, where I'll be delivering a full-day workshop on cracking the Power BI performance, but also joint sessions with my great friends Alpa Buddhabhatti and Augustin Dokoza Bukvic. I'll also "help" Ben Weismann and William Durkin to get rid of sausages and beers at Data Grillen beginning of June:)
I'm also starting a Power BI show, called Data Jazzers, with my friend Augustin Dokoza Bukvic. Once per month (every second Tuesday), we'll try to bring some interesting guests and chat with them in a more informal way – so, it won't be a "classic" session delivery format, but more of a way to engage with some of the brightest minds in Power BI world. That being said, our first guest on February 15th will be one and only Chris Webb!
I would lie if I say it wasn't exhausting sometimes – but, I truly enjoy working with data, and even more enjoy sharing my knowledge and experience. There is no better reward than when someone says to you that your article or idea helped to solve the problem!
I hugely appreciate how much I've learned, and how much I'm still learning on a daily basis from different data community experts – that being said, I promise to continue making music from the data in 2022!
If you come so far reading this article, then I'd really like to give you special kudos! Thanks for reading, happy holidays, enjoy the festive period in peace and health, and hope to see a lot of you in person in 2022!
Last Updated on December 26, 2021 by Nikola